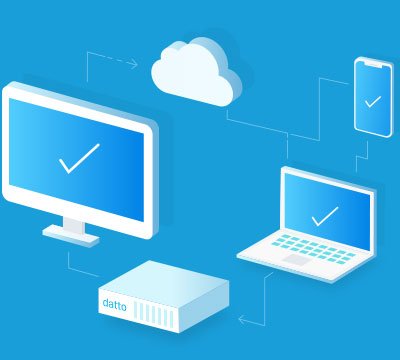 Datto - Protection For Microsoft Office 365
Restore lost data lightning fast
Your employees and their productivity are one of your most
valuable resources. That's why you invested in Office 365. But
what happens when the content your employees create is lost?
With Datto Cloud Backup you can instantly find and rapidly
restore that lost content, giving you peace of mind that no
matter what happens your productivity is protected.
Data loss happens - EVEN in the cloud
Office 365 and the Cloud do not prevent data loss due to human action. 75% of data loss is due to people deleting content accidentally or intentionally, and that's not the only threat.
Another study found that 32% of the companies surveyed had experienced data loss from:

Deleted items in Office 365 will be
permanently removed after 14 days.
Expanded Office 365 licenses and
features offer unlimited retention, but
don't provide a fast, easy way to restore
content exactly as it was and where it
was so your employees can get back on
track quickly.
User Error (64%)    Malicious Deletion (7%)   Hackers (13%)    Third-Party Software (7%)  Closing Account (10%)
A Backup Solution
Pay a predictable, low, fixed monthly price per user to quickly and easily get your employees back on track
No Backup Solution
Risk unpredictable and potentially devastating per-incident costs in both money and lost productivity
Get Back on track with Datto Cloud
With Datto Cloud Backup Technology you can instantly find and rapidly restore lost data, so you have total peace of mind and stay productive no matter what happens. And with 3 snapshots daily, the backup keeps pace with your business throughout the day.